Help Your Customers Beautify Their Home With Koi Ponds
S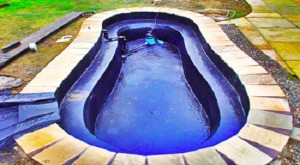 pray-Lining and Coatings manufactures Liquid Containment liners and other applications. We have found that Polyurea is the best Lining solution available for water features and koi ponds. 
If you're in the process of installing a Pond Coating System or any kind of pond related installation, contact us to learn more about this innovative technology that offers a variety of applications. Get some ideas from our Koi Pond Video to see how Spray Lining and Coatings can help you get this business moving.
Key Properties
• Fast and Easy curing! Supports foot traffic in 7 minutes.
• Very flexible and very resistant to chemicals and abrasion. Pet friendly Surface.
• Flexible, up to 645% elongation.
• Mil thickness available in a wide range.
• No VOC's.
• Textured surfaces: non-slip, anti-stick, or very-smooth surface can be applied to your pond in no time.
• Many formulas now available for virtually any application. Call to discuss possible applications in your area.
• Koi Pond Safe, USDA approved for virtually any kind of food contact.