Truck Bed Lining and Consumer Applications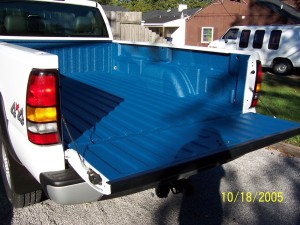 Our Exclusive Lifetime Warranty is provided because of the strong, thick nature of our coating which makes this bed liner the best in the industry.
Spray-Lining Coating Solutions customizes any texture and color to not only protect your equipment, but make it stand out while doing so. Our clean-easy, non-stick solution will beat any name brand in quality, product variety, features, and mil height.
We are the only manufacturer on the market who provides a spray liner product which allows you complete control over the finished product. Dealers who would like to customize their installation even further will always find helpful support representatives to take you to the level you seek.
Virtually no chemical penetration
Fast and easy installation
No warping or cracking under high/low temperatures
Water/air tight against corrosive materials
FDA/USDA Approved – SAFE!
Any color including clear
Any Texture