Use our Spray Lining and Coatings Area Calculators to quickly determine the proper coverage for your koi pond or pool. This tool will help determine coverage needs for kidney shaped ponds and pools.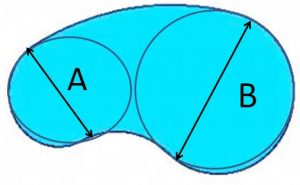 Enter the radius for sections A and B (simply divide the distance measures indicated in half). Then enter the minimum depth, and the maximum depth.
NOTE: For ponds and pools like the one pictured which do not have overlapping sections A and B, it is advisable to add square footage to the totals provided.