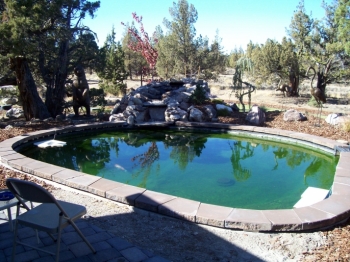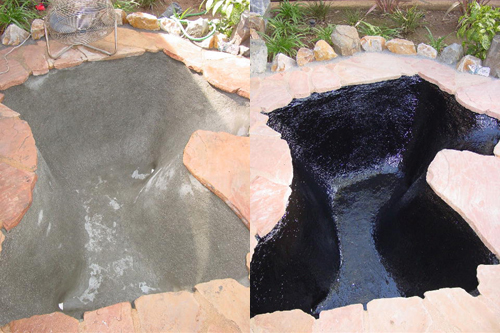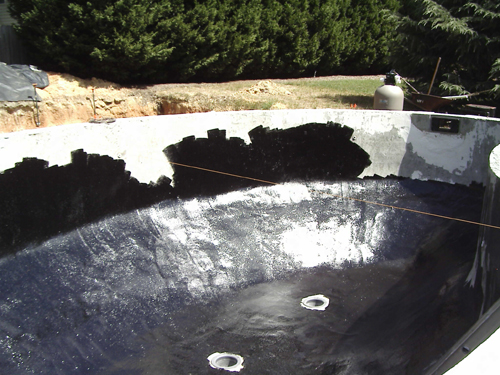 $('#s1').cycle('fade');
Spray On Poly Pond Lining
The Best Liner For Ponds
No Scratches and tears from large decorative items
No Costly shipping expenses
No Hard to deal with seams
Form Fitting for superior finish
Seamless installation means no leaks later on
Easily repairable even under water
Any volume, dimension is easy to handle
One of our Satisfied Customers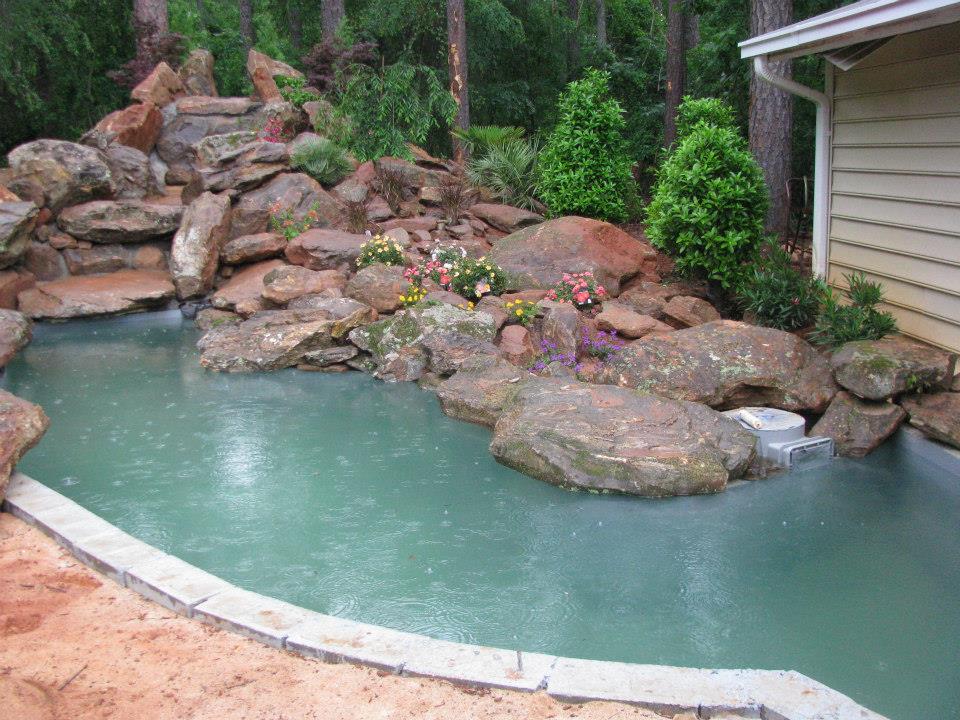 David Greene of
Greene Plumbing & Heating Inc.
used our
Professional DIY Pond Lining
for this large residential job. The results were outstanding.
Read the Testimonial
Spray Pond Liner - Koi ponds
Fish, plant and environmentally safe pond coatings for koi ponds, waterscapes (with waterfalls, streams, etc). Our high end SOFT non-toxic coating is
completely VOC and isocyanate free
so you can rest assured there will be no hazard to life you are introducing to your water scape project.
Spray-Lining pond systems are designed to be a one-time application with little or no maintenance. Compared to seamed drop in pond liners from firestone or other manufacturers, our lining system is superior.
Don't Mess up Your Beautiful Scape with a liner
If your pond is in place with ground scaping around it, don't change a thing. With Spray-Lining Koi Pond Coatings you can keep everything exactly the way it is.
Just spray it and preserve it.
Superior Behavior

Safe for food contact, koi fish, water containment, USDA approved.
Alternative formulas are available for unique applications and/or cost requirements.
Available in slip proof texture, high, medium, and low profile to smooth finish.
Any mil thickness can be applied within one application.
Seamless, no folds, leak proofing durable for animals, heavy moving rocks, etc.

Extremely flexible and abrasion resistant.
No VOC's (volatile organic compounds).
Poly alternatives with no isocyanates.
Different formulas available for virtually any application or need.
---
Shop Ponds and Waterscapes

Koi Pond Kit w/ equipment
We are experts in applying all polyureas, polyurethanes and epoxies. With over 30 years of experience we can help you get any job done. Also, unlike distributors and other large organizations we go above and beyond to support your installation.
---
Articles on Koi Pond Design | Contact Us - info4@spray-lining.com
---
Support
We treat every job with a high level of attention Because:
- This is one way we separate ourselves from the rest
- Word of mouth references are very important to us so we want you to be happy on all levels
- Your success is our success. When you finish your project we want pictures and references from you to put on our website
Materials
Polyurea is a popular but very expensive coating for ponds and aquatic life containment.
Our Flexible Poly Hybrid is a lower priced solution that yields excellent results. Unsurpassed puncture resistance and long life span makes this an ideal material for the small or large DIY coating job. There are a number of coatings for specialized applications not detailed here.
Please call for more details - (877)891-8741
---